My quizzes...all about me! (Part 3)



(May take a little bit to load, so please be patient!)

© What's your Inner Goddess Color?? © Jen

© What's your Inner Goddess Color?? © Jen

You are an angel.
What legend are you?. Take the Legendary Being Quiz by Paradox




You are a muse.
What legend are you?. Take the Legendary Being Quiz by Paradox


Congratulations, you're a Pillywiggin, a trouping flower fae.
What kind of female faerie are you?
Take the female faerie quizby Paradox


Congratulations, you're a Brownie, a household helper.
What kind of male faerie are you?
Take the male faerie quizby Paradox.





Congratulations, you're Los Angeles, the City of Angels.
What US city are you? Take the quiz by Girlwithagun.



Which flock do you follow?
this quiz was made by alanna

find your element at mutedfaith.com. <º>




How Big of a Buffy Fan Are You?
brought to you by Quizilla




How Obsessive Are You Over Buffy?
brought to you by Quizilla




Which Buffy Episode Are You?
brought to you by Quizilla




Are you a Spike addict?
brought to you by Quizilla




Which Angel character are you?
brought to you by Quizilla




Which Spuffy kiss are you?
brought to you by Quizilla




Which Buffy Musical Song Are You?
brought to you by Quizilla



Villains fear me.
Heroes envy me.

Valerie is...
The Iron-Muscled Ninja
Villains fear me.
Heroes envy me.

Angel of Music is...
The Misunderstood Berzerker
Which Peanuts Character Are You Quiz

Find your Role-Playing Stereotype at mutedfaith.com. [Angel.]
~Find Your Inner Supermodel~
What Angel Sanctuary Character are you?


Even Superman once worked in a team
Take the Cartoon Hero Quiz?.

The red thing with sneakers
Find out what secondary animated character you are.

*meow*
What fuzzy creature are you?

Adorable
Find out what anime character cliche you are.

The Clown Prince of Crime
Find out what Cartoon villan you are.

Busy
Find out what Cartoon location you are.

Bad-ass, Street Fighting Chick
What Video Game Hero Are You?
Try me! I'm Chocolate Chip
Or at least, I would be if I was a muffin. *grin* People who match chocolate chip muffins are modern and fast-paced, if a bit generic. We're usually go-getters that like flashy new things and socializing. Just don't try eating us before we've baked; raw eggs and baker's chocolate are a bad mix. *wink*

Take the Muffin Quiz to find out your variety. Quiz created by LJ user Seeking_Insight.






I Am Ananse the Spider

Ananse the Spider of African folklore is both wise and foolish in the best tradition of tricksters. If you're like Ananse, you're clever and like to be thought well of, but sometimes you outsmart yourself. You're always trying to figure the best angle and you're intelligent and creative, but you have a crude streak. Still, you like to show off your knowledge and that makes you a good teacher..

Which Trickster are you?
Take the Trickster Test at www.isleofdreams.net







What Kind of Relationship is Right For You?

What do people say behind your back? Find out @ digitalcharisma


What Card Game Are You?




Test Results


You think of yourself as being warm, cuddly, loving, and happy.
Others think of you as being pure, loner, fantastic, and a healer.
Your relationships can be described as dynamic, calming, powerful, and relaxing.
When stressed, you feel trapped.

Take this test here.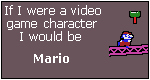 I am Mario.

I like to jump around, and would lead a fairly serene and aimless existence if it weren't for my friends always getting into trouble. I love to help out, even when it puts me at risk. I seem to make friends with people who just can't stay out of trouble. What Video Game Character Are You?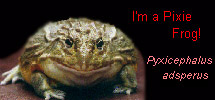 The African bullfrog, or Pixie frog as it is often called (because of it's latin name, not because it's as cute as a fairy!), is one of the largest frogs in South Africa. Usually, they hang out in open grassland, and if there are any to be found, they'll sit around in puddles. When startled, these frogs will blow up like balloons to scare away the intruder! In the dry season, they will burrow into the ground. These guys eat lots and lots of really big bugs, fish, mice, lizards, and even other frogs.

What colour of Skittle are you?


What 'Buffy' Couple Are You and Your Significant Other?
brought to you by Quizilla


Click here to find out what element YOU are!



What's your inner fangirl? Take the test!
What Coke Are you? Click To Find Out!

Back to Who Am I?